A date with my inner artist
Why do I find this so hard to do?
The Artist Date is a once-weekly, festive, solo expedition to explore something that interests you. The Artist Date need not be overtly "artistic"– think mischief more than mastery. Artist Dates fire up the imagination. They spark whimsy. They encourage play. Since art is about the play of ideas, they feed our creative work by replenishing our inner well of images and inspiration.
~ JULIA CAMERON, The Artist's Way
In my last post, I shared my decision to engage with The Artist's Way course as part of my spiritual and creative quest. While I was excited, I also wondered how I would fit Morning Pages and a weekly Artist Date (and about ten other tasks each week of The Artist's Way course) into my life.
It's a fair question. Like so many, an overabundance of busy-ness is an issue for me. And I recognise that, far from being a badge of honour, it's a distraction from living a fulfilled life.
Thanks for reading La Muse ! Subscribe for free to receive new posts and support my work.
If you have a problem (addiction?) with busy-ness, you'll recognise these traits:
We don't check in with ourselves or others. Or when we do, it's while we're doing something else.

We're always scurrying from thing to thing, moment to moment, action item to action item - we fill every moment with stuff on invisible or very real to-do lists.

Our thoughts are always tracking towards what we should and could do. If we relax, we wonder if we should be doing nothing.
Why? That's an essay in itself. Taking on too much, not setting boundaries, busy-ness addiction, fear of sitting with one's thoughts … these are just some examples.
Busy seasons happen. But why do they sometimes (in my case, anyway) seem to be less of a season and more of a constant state?
One thing I'm trying to learn as part of The Artist's Way is that my value is not determined by how productive I am or what I do.
Let me write that again. In bold.
My value is not determined by how productive I am.
My value as a creator, as an artist, is not determined by how productive I am.
Even if I am not producing a THING (a poem, a book, a short story, a manifesto), I am still a creator.
Which brings me back to the Artist Date.
I struggle with the concept not because I don't like to play - I do! - but because I have been (all my life) enslaved by the notion that there should be a tangible outcome for anything not work-related I do.
But I've been trying to find ways to play, not necessarily artistic, and therefore feed my creative imagination.
The first week, I collected a guitar from a local Buy Nothing site. Back at home, I sat and played it … badly. It needs a tune and I need to learn how to play the guitar. But I strummed that guitar and sang a stupid song to my cat (she wasn't a fan). And then I looked up how to play two chords and played them. They sounded terrible (still not tuned), but I played.
The second week, I planted some herbs, then wandered barefoot in my garden and took photos of wonderful, creative life.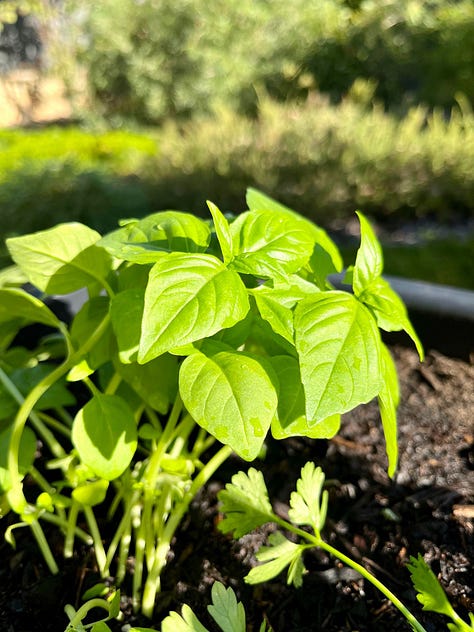 Did you notice the mosaic stepping stones (scroll up) in this article's opening image? It wasn't until last weekend's Artist Date that it occurred to me - they are physical reminders of past Artist Dates. I'd never thought of those stolen weekend afternoons - when the house was full of teenagers - that way.
Yesterday, I sat on the beach in a yoga pose, closed my eyes and let the fading sun and rising breeze shiver over my skin. And then I ran into the water, squealing like a child and frolicked in the waves (I have not done this for years).
You've just washed your hair, I thought. And then, Fuck it!
(Sorry Mum for the F-bomb, but there are times you have to go with it.)
If you want to bring more play and creativity back into your life, you have to let go.
I'm not doing Morning Pages every day - last week I did them five days, the week before four. I'm getting there, but not beating myself up when I don't.
But here's what I am getting …
a spark.
A SPARK!
Creative things are happening. I spent last weekend writing a reverse poem. I've written half a dozen haiku. I made notes for my WIP and had a brainwave about the other WIP.
And then there's this …

My two novels, Wherever You Go and Wildflower, have been contracted by UK publisher Bloodhound Books! They're due for release later this year.
It happened so fast … but that's for another day.
What are your Artist Date suggestions?
Thanks for reading La Muse ! Subscribe for free to receive new posts and support my work.